How Much Are Kegerators? Find Out What Are the Best Price Kegerator Options
Posted by Ron on 15th Aug 2023
How much is a kegerator? That's the question often asked by beginner homebrewers and draft beer enthusiasts looking to step up their game. Here in this article, we'll try to answer that question and give you a quick roundup of the kegerator prices. Hopefully, this will help you understand how much are kegerators these days and how to pick the one for your budget.
Where You Can Buy a Kegerator
When it comes to buying a kegerator, there are two main places you can get one from – a retailer chain or a specialized shop. The first option is alright for someone who's just getting into the draft beer culture. The second one is an overall better choice. Let's take a closer look.

Whether you're considering buying a kegerator at Costco, kegerator at Lowes, a kegerator at Walmart, or a kegerator for sale at Home Depot, you should consider the following factors:
Limited product lineup (you may not always get a kegerator that's best for your needs)
Higher prices (it's not always easy to get the best deals on kegerators from retail chains)
Insufficient customer service (not every store clerk has extensive knowledge of kegerators)
As we've mentioned before, the best way to get a kegerator for your home would be to shop at a specialized store, online or offline. So, how much is a kegerator fridge at these outlets? Typically, a medium-sized kegerator with a single tap tower would cost you around $700.
What Is the Average Cost of a Kegerator?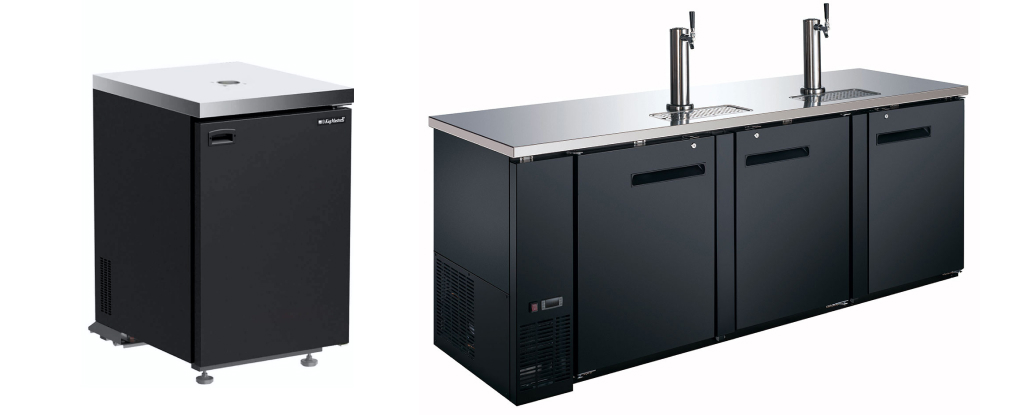 Speaking of kegerator prices in general, we have to consider two main varieties of kegerators - home kegerators and commercial keg coolers.
Naturally, the cost of buying a ready-made kegerator that's designed for commercial use (including an undercounter kegerator) is a bit higher, starting from $1,200 for a basic model and reaching $3,000 for advanced, large-sized models with electronic controls and dual-tap towers.
To learn more about the kegerator cost and what things to consider when buying a kegerator, be sure to check this article on the Beverage Craft blog.
What's the Cheapest Kegerator to Buy?
When it comes to the most affordable kegerator, it's usually the one with a manual thermostat, no tap tower included, and a capacity that allows you to fit no more than two Corny kegs. A cheap kegerator like this would cost you around $500 or less if you're lucky to find one on sale.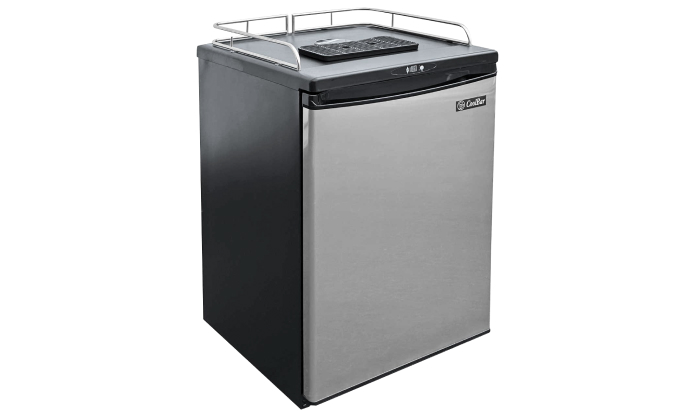 If you're looking for the best price on small kegerators for home bar, you should check our selection on the Beverage Craft website. If there's such thing as the cheapest kegerator, you ought to find it there.
DIY Kegerator Cost
If spending $500 on a kegerator is still too much of an investment for you, there's a great workaround. With a bit of DIY skills and a kegerator kit, you can easily convert an old fridge into a fully functional kegerator. Here's a detailed guide on how to do that (oh, and you'll need a CO2 tank for a kegerator as well, purchased separately).

The Cost of Owning a Kegerator: Annual Expenses Breakdown
Is it cheaper to have a kegerator? Here are the essential annual costs associated with owning a kegerator that you need to consider.
Initial cost. Depending on the size, brand, and features of the unit, expect to spend anywhere between $500 to $700 for a quality home kegerator.
Kegs. Owning a kegerator means you don't have to buy bottled beer but you still need to buy kegs. A standard 15.5-gallon keg costs between $80 to $200, while smaller 5-gallon kegs usually range from $60 to $100.
CO2 tank + refills. To dispense beer from the keg, you'll require a CO2 tank, which needs to be refilled periodically. The frequency depends on the number of kegs you dispense. On average, a 5-pound CO2 tank refill costs around $10 to $20.
How Much Does It Cost to Clean Kegerators?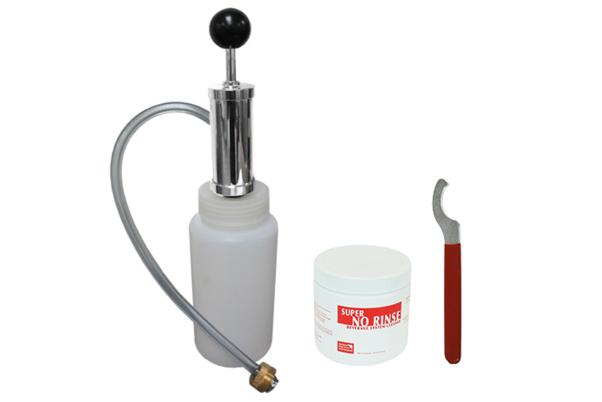 Kegerators have to be cleaned and sanitized regularly. However, it's not such a costly process – more time-consuming. What you will need is a kegerator cleaning kit (costs around $180) that will last you up to 12 months, depending on the frequency of use.
Other Costs to Operate and Maintain a Kegerator
Like any other appliance, kegerators require occasional maintenance, which mostly involves cleaning the beer lines and faucet. Additional costs may include:
Energy bills (consumption varies depending on various factors such as the size, insulation, and energy efficiency of the unit)
Accessories (you may want to buy things like drip trays, tap handles, keg covers, etc. These items range in price from a few dollars to over $100, depending on their quality and brand.
Conclusion. Are Kegerators Worth It?
So, how much does a kegerator cost? When calculating the costs of owning a kegerator, in addition to the device itself, you need to consider your beer consumption habits, frequency of use, and the styles of beer you prefer. By factoring in these expenses, you'll have a better understanding of the actual cost associated with owning a kegerator.
That being said, we believe that buying a kegerator is a really worthy investment for anyone who loves enjoying fresh, cold beer in the comfort of their home. If you're not sure which kegerator is right for you, check out this list of top-rated kegerators compiled by the Beverage Craft team.
You May Be Also Interested In