Best Commercial Grade Kegerator 2022-2023
Posted by Ron on 17th Jan 2023
If you own a pub, bar, or restaurant that serves beer, you already know how important it is to keep that beer fresh and cold at all times. The best way to do it is by using a commercial-grade kegerator that's durable and reliable enough to serve you at least a decade.
Here, in this article, we will take a look at some of the options on the kegerator market and try to determine the best commercial kegerator for the 2023 season.
Things to Consider When Choosing a Commercial Kegerator
Like any product, commercial kegerators are not all made the same. Knowing the difference between various models will help you get the right kegerator for your needs and also save some money along the way.
➔ Size and capacity
Strictly speaking, most kegerators can be split into two large categories:
Mini-kegerators (capable of holding one 5-liter mini-keg)
Full-size kegerators (capable of holding at least one full-size (aka "half-barrel") keg, which amounts to 15.5 gallons or approximately 59 liters of beer)
Being the most popular variety, full-size kegerators themselves vary in capacity and size. To get a better understanding of what size you need for your bar, please see this article here. We put together a nice visual presentation showing exactly how many different kegs you can fit in a kegerator.
➔ Price
Although sometimes it is possible to find a cost-saving deal, good-quality commercial beer kegerators are usually not that cheap. Typically, they start from $1,000 per unit and can go as high as $3,000 for some high-end models depending on the options.
The reasonable price range is within $1,200-1,500 since this is where you can get a decent compromise between quality/features and price/brand.
➔ Features and options
The most important feature any kegerator should have is the ability to hold pressure well and maintain a consistent temperature. However, there are lots of "in-betweens" here.
First of all, you want to know the temperature range for your future kegerator is might be crucial for the style of beer you will be dispensing. Typically, the temperatures fall between high 30s and mid 40s Fahrenheit.
Second, you want to make sure the cooling capacity of your kegerator is sufficient enough to quickly chill the amount of beer you are planning to serve. Remember - anxious clients won't wait for their beer to reach the desired temperature.
Finally, it's the little things that make operating a kegerator easier and more enjoyable - such things as:
Digital thermostat
Removable drip tray
Rollers or casters for better mobility
Fluorescent lights, stay open doors, and more
➔ Additional options
A kegerator by itself is not enough to start pouring ice-cold beer. In order to get the beer flowing, you need to have the complete set, which includes:
Certain models may or may not include some or all of these items. When choosing a kegerator, always pay attention to what's included in the set since it will directly affect your budget.
➔ Placement
The big thing here is to understand whether you need a built-in kegerator or a freestanding one. Typically, our customers prefer freestanding kegerators since they can be easily moved around when needed. But, in this case, you will also have to make sure there's at least a couple of inches behind your kegerator for ventilation.
➔ Maintenance and cleaning
You want your kegerator to be easy to take apart and clean regularly. A good idea here is to use a kegerator cleaning kit that already includes everything you need to keep your kegerator and its parts free of mold and other types of nasty residue. Frequent cleanings will preserve the fresh taste of beer in every pour.
Best Commercial Kegerator in the US and Canada 2022-2023
The commercial kegerator market is quite competitive and you can always find a plenty of models at affordable prices.
However, it is not always easy to find a model that is versatile enough to suit your bar without having extra features that do not add any real value.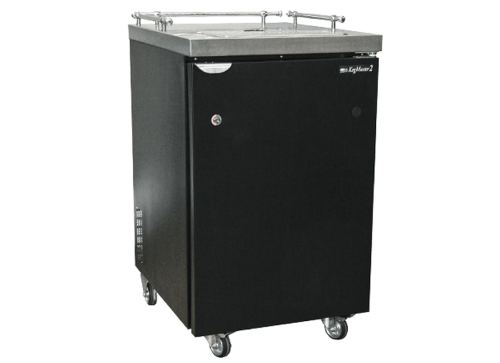 Let's take a look at the UBC KegMaster2 which is available for purchase on our website. This is a commercial kegerator produced by UBC Group, a Canadian manufacturer and distributor of commercial beer, beverage and food service refrigeration equipment.
Overview
UBC Kegmaster2 is a compact model featuring modern ergonomic design, so you won't have any problems fitting it into tight spaces. This kegerator is a solid option for bars and restaurants looking for a compact kegerator on wheels packing serious beer cooling capacity.
Other notable features include a stainless steel top with a removable drip tray, which is really convenient while cleaning, and swivel wheels so that you can easily move it around.
Specifications
Dimensions
Height: 39" (99 cm)
Depth: 31" (79 cm)
Width: 24" (61 cm)
Weight: 145 lbs (66 kg)
Exterior
Cabinet material: powder-coated metal
Drip tray: built-in, stainless steel
Guard rail: included
Casters: included
Branding: available, optional
Technical
Noise level: below 65 db
Evaporator type: dynamic cooling, ribbed pipe
Operating amperage: 3.7 A
Thermostat model: Danfoss ETC 1C1 (manual)
Compressor type: Tecumseh
Compressor capacity: 1/5 hp (574 W)
Refrigerant: R-134A
Capacity
The UBC Kegmaster2 kegerator is capable of holding 1 half-barrel keg, 2 quarter-barrel kegs, or 4 sixth-barrel kegs.
Pros and Cons
➔ Pros: arguably, the best thing about this kegerator unit is the value. For a relatively low price ($1,366.91), you get all the basic features of commercial kegerator combined with decent compressor capacity, robust heavy-duty construction, and high-quality materials (304 stainless steel).
Other pleasant surprises include a reversible self-closing door, an overall stylish look, and optional branding (door only or door + 2 sides).
➔ Cons: unfortunately, this unit does not come with a tower so you will have to purchase it separately. Although, it does offer flexibility – there is a possibility to place up to 4 tap towers on top.
Conclusion
If you are looking for a solid 1-, 2-, or 3-tap commercial kegerator for your bar or restaurant, consider the UBC Kegmaster2 model. We believe it offers the best value in its price category and is a popular choice among our customers.
Some alternatives to this model are the smaller Kegmaster Craft and ultra-compact Kegmaster Eco models.

You May Be Also Interested In