How Many Kegs Fit a Kegerator
Posted by Ron on 4th Oct 2019
Understanding your kegerator capacity and how many kegs it can fit is a common concern among beer enthusiasts and bar owners. This information can help you make a better choice and get a commercial kegerator that matches your needs and requirements.
There are a few elements in this equation. You need to consider types of kegs and their capacity/dimensions plus types of kegerators and their capacity/dimensions. We have to talk about each of them in order to find the best fit for you.
Types of Kegs
The table below will give you an idea of the most common keg sizes and their capacity.
| | | | | | |
| --- | --- | --- | --- | --- | --- |
| | Capacity (gal / oz) | Cans / Bottles (12oz) | Pints (16oz) | Height / Weight | Width (Diameter) |
| Mini Keg | 1.32 / 169 | 14 | 10.6 | 9⅞" / 13lbs. | 6¾" |
| Cornelius Keg | 5.0 / 640 | 53 | 40 | 23″ / 49lbs. | 9″ |
| Sixth Barrel | 5.16 / 661 | 56 | 42 | 23⅜" / 58lbs. | 9¼" |
| Quarter Barrel | 7.75 / 992 | 82 | 62 | 13⅞" / 87lbs. | 16⅛" |
| Slim Quarter | 7.75 / 992 | 82 | 62 | 23⅜" / 87lbs. | 11⅛" |
| Half Barrel | 15.5 / 1,984 | 165 | 124 | 23⅜" / 161lbs. | 16⅛" |
| Rubber Barrel | 7.75 / 992 | 82 | 62 | 13⅞" / 87lbs. | 17″ |
| Beveled Barrel | 7.75 / 992 | 82 | 62 | 13⅞" / 87lbs. | 17″ |
Now, let's go over the three most popular types of kegs and see how they can fit in a kegerator.
➔ Half barrel keg
This is arguably the most common type, also known as the "full-size keg". Half-barrel kegs are usually slightly over 23 inches tall and about 16 inches diameter, weighing roughly 160 pounds when full.
One half-barrel keg holds about 15.5 gallons (58.67 liters), which amounts to 165 twelve-ounce glasses of beer. If you've got a full-size kegerator, it should hold one standard half-barrel keg.
➔ Quarter barrel keg
Unlike the full-size (half-barrel) keg, this type of kegs comes in two distinct variations:
Regular quarter
Slim quarter
Both these types have the same capacity (7.75 gal or 29.3 liters), which gives you roughly 62 pints of beer. The difference is in the shape - the slim quarter keg is taller and slimmer than the regular quarter barrel.
You, as a customer, get to choose the variety that fits your kegerator better and, therefore, save up some space while getting the same amount of beer in the end.
➔ Mini keg
Mini kegs are widely used in the retail beer trade. In fact, you might have seen one of Heineken mini kegs in your local liquor store as they are quite popular with this brand.
Capacity-wise, mini kegs hold 1.32 gal (5 liters) of beer, which amounts to roughly 13 twelve-ounce glasses. Due to the relatively compact size (10'' tall, 6.75'' in diameter) and weight (13 pounds or 5.9 kg), they are highly portable and can be used with mini-kegerators.
The downside is that mini kegs, as a rule, cannot be refilled and have to be recycled after use.
Another type of keg that deserves an honorable mention is the Cornelius (Corny) kegs. Popular among homebrewers, these are small-but-mighty sixth barrel kegs.
Types of Kegerators
All the kegerators on the market can be split into 4 main types:
Mini kegerators
Full-size home kegerators
Commercial kegerators
Outdoor kegerators
The difference between them mainly comes from the size and the purpose they are built for. Let's go over these types to see what their features are and how many kegs they can fit.
➔ Mini kegerator
Designed to hold 1 mini keg (hence the name), mini kegerators are typically used in places with limited space. With a maximum capacity of 5 liters, these kegerators can be tapped 2 to 4 times.
➔ Full-size kegerator
Intended for home use, full-size kegerators can fit one half-barrel (aka "full-size") keg. Coming in the form of a freestanding refrigerator (although undercounter models are also available), full-size kegerators usually feature a pressurized CO2 tank and a coupler to dispense beer.
➔ Commercial kegerator
Similar to full-size home kegerators, their commercial counterparts are constructed to meet stricter standards often using higher-quality materials and craftsmanship. They can hold multiple types of kegs including half-barrel, quarter barrel, and mini kegs.
➔ Outdoor kegerator
Designed for outdoor use, these kegerators are ideal for keeping beer chilled in a wide temperature range - from 450 to 1000 Fahrenheit. Outdoor kegerators can be placed in a garage, basement, or a back patio.
What Size Keg Will Fit in My Kegerator?
We often receive questions from our customers who want to know about keg dimensions and the number of kegs that can fit in kegerators of different sizes.
Now that we have familiarized ourselves with the basic types of kegs and kegerators, it's time to bring them together and see how it all works.
The chart below will help you match the type of keg with the type of kegerator and determine how many sixth-barrel, slim quarter, quarter or half-barrel kegs can be placed in a kegerator at your pub or home bar.
Kegerator Keg Capacity Chart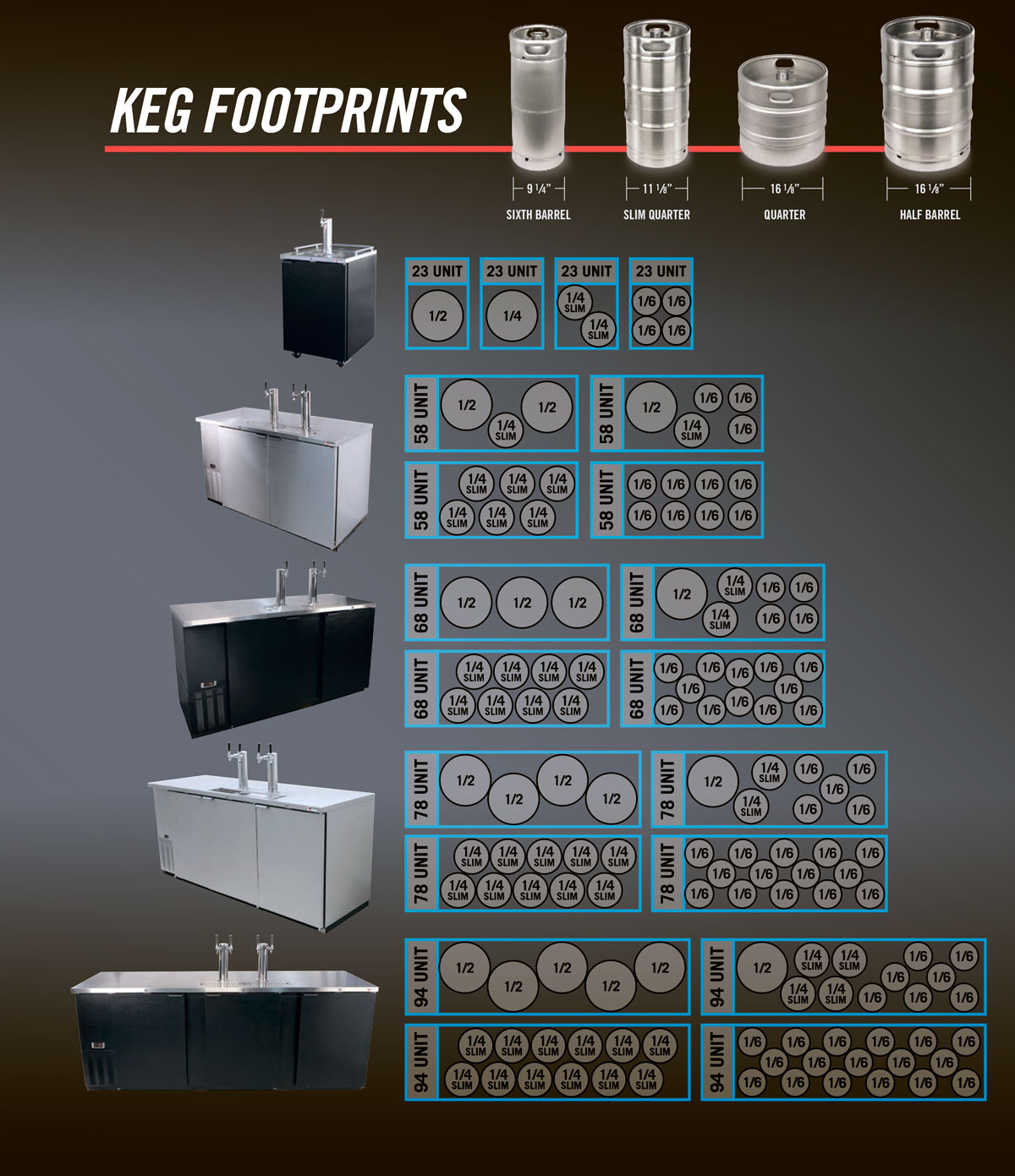 ► Download kegerator keg capacity chart in pdf
The "unit" number (23, 58, 68, 78, and 94) refers to the width of a kegerator. The wider your kegerator is, the more kegs it can potentially fit.
How to use this chart: for example, you're interested in a particular kegerator model (like this full-size 2-door kegerator). You notice there's a "CDD-58" designation in the name of the model, which essentially means its capacity. Then, you look at the chart and see that a full-size 58 unit can fit each of the following combinations:
2 half-barrel kegs + 1 slim quarter
1 half-barrel, 1 slim quarter, and 3 sixth-barrel kegs
6 slim quarter kegs
8 sixth-barrel kegs
If you're not sure, you can always contact us - our experts will help you make the right choice and get the kegerator that's right for your budget and needs.
One thing worth noting here is that, due to the fact that one particular kegerator can fit multiple combinations of kegs. Because of these most kegerators don't come equipped with beer towers/faucets and they have to be purchased separately.
Once you have decided on the setup you want to have, you can check out our selection of kegerator beer towers and choose the one that fits your style best. Alternatively, you can get a beer tower adapter that can help you increase the number of faucets from 1 to 2 or from 1 to 3.
How Long Does a Keg Last in a Kegerator?
Last but not least, this is an important question that we often get asked. Unfortunately, there is no definitive answer as it all depends on many factors, such as:
Style of beer
Type of pump
Pasteurized/non-pasteurized
However, there is a rule of thumb. If your beer is refrigerated inside a kegerator using CO2, a keg will generally last you anywhere from 6 to 8 weeks before it starts to lose its freshness.
If stored at the recommended temperatures, pasteurized beer should last from 3 to 6 months. As for the unpasteurized beer, it will last you 2 months or less.