Best Kegerator for Home Use 2023
Posted by Ron on 31st May 2023
If you're in the market for a good, reliable, and versatile kegerator for home use, there are plenty of models and brands to consider. How to know which one is the best? In this article, we're going to look at some of the best home kegerators and try to nominate the 2023 best home kegerator.
What Is the Best Kegerator for Home Use?
If you're out to find the best kegerator for home use, you obviously need to have some sort of criteria to compare different models to each other in order to pick the one that fits you best.
Although every kegerator is essentially a refrigeration unit designed to store a keg of beer inside and dispense that beer up through the tower and the faucet on top, there are still some differences.
So, here's what you need to look out for when choosing a home kegerator:
Obviously, the best in-home kegerator has to fit in the place where it's supposed to be. Not only that, but you also want to make sure nothing will obstruct your access to the kegerator and allow for easy installation and maintenance later on.
By capacity, we mean how many kegs can fit inside your kegerator and what the size of these kegs is. The usual "the bigger, the better" does not always apply here, since you may need to find a perfect balance between the overall size of your kegerator and how many kegs you want to store in it.
Number of beer towers/faucets
Having an option of 2 or 3 beer cylinder towers for a home kegerator may come in really handy if you're planning to dispense multiple sorts of beer. Although this option typically increases the cost a bit, many beer enthusiasts still prefer to have it, just in case.
Basically, this is how fast your kegerator can cool a keg of beer and how long it can hold it at the lowest temperature. Most kegerators have temperature ranges between low 30F and mid-40F.
What's included in the set
Some models are sold as "complete" kegerator sets containing all the elements you need to get them going, while others require purchasing these additional elements separately. A complete kegerator set would include the following elements:
CO2 tank
Regulator
Decoupler
Beer line
Air line
Beer tower (or towers)
Faucet (or faucets)
Faucet handle(s)
Drip tray
Now that we know all the criteria, let's take a look at our featured model today – the one that we consider to be the best home bar beer dispenser.
Best Kegerator for Homebrew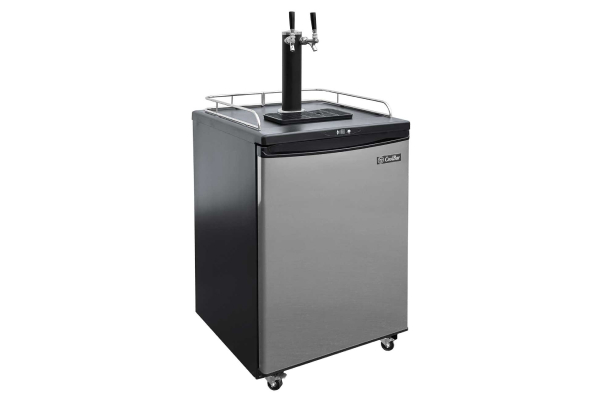 Of all the kegerators in the Beverage Craft lineup, we nominate the Kegerator Coolbar CDDT-XR180 model as "The Best Kegerator for Home Brewing". This unit is definitely worth checking out first if you are looking to buy a reliable kegerator for home use and don't want to break your bank.
Here are some of the basic characteristics of the KC2000 model:
Dimensions
Height: 35"
Depth: 24"
Width: 24''
Weight: 95/112 lbs
Capacity
1/2 Barrel: 1 Keg
1/4 Barrel: 1 Keg
1/6 Barrel: 2 Kegs
Exterior
Cabinet: white powder-coated steel exterior
Drip tray: plastic with rubber tips
Guard rail: yes
Casters: yes
Other
Digital temperature control
Automatic defrost
32~50F temperature range
This is an ideal starter model for those who are just entering the kegerator market since it includes all the main features you may need at a really competitive price. If you're looking to save some more, you can buy the same model without the tower. All in all, this is arguably the best homebrew kegerator in this price range.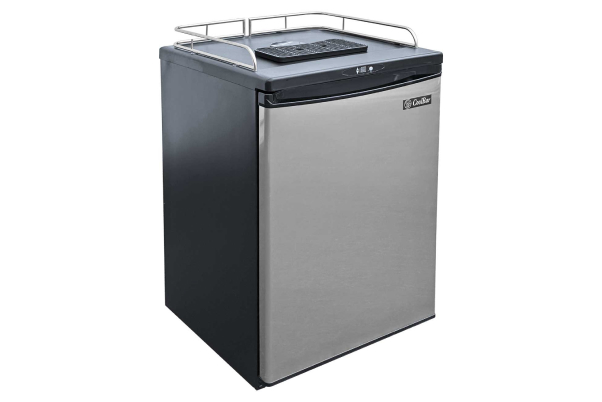 Is a Home Kegerator Worth It?
In short – yes, it is. A home bar with a kegerator is definitely a must-have item for any homebrewer or draft beer enthusiast. A beer dispenser for a home bar is relatively cheap, super-easy to install, handle, and maintain, and fits just enough kegs to supply you and your guests with fresh, cold beer.
How Long Does Beer Last in a Residential Kegerator?
Although these numbers may vary for different styles of beer, in general, beer in a kegerator lasts for 2–3 months (provided it is stored at the proper temperature and pressure). However, the taste and quality of the beer may start to deteriorate as soon as a few weeks into the keg, which is why we recommend finishing a keg within 30–45 days of tapping.
Home Kegerator Maintenance
Kegerators are built to last and don't usually require lots of maintenance. However, there is one thing you absolutely have to do on a regular basis, which is cleaning beer lines. Using a kegerator cleaning kit, you should clean the lines and the faucets every 2–3 months (or when you change the keg). This will help you to keep your beer always fresh and tasty.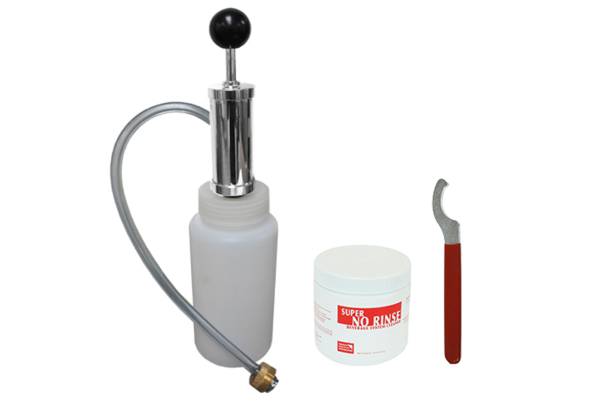 Best Place to Buy Home Kegerators in Canada and the USA
For over a decade, Beverage Craft has been a reliable supplier of draft beer equipment and accessories to homebrewers and beer aficionados all across North America. In the kegerator department, we have plenty of choices to offer, including the best kegerator under $500 – the Coolbar CDD-KLX model.
Need accessories? We've got them as well – you can buy kegerator kits for home use or cleaning kits, all at very competitive prices.

You May Be Also Interested In