Best Kegerator for Light Home Use 2021-2022
Posted by Ron on 1st Nov 2021
If you're in the market for a reliable and versatile kegerator for home use, there are plenty of models and brands to consider. How do you decide which one is the best? Here is our take on the best kegerator for home.
Things to Consider Before Buying a Kegerator
As with any other product, when choosing a kegerator, you need to have some sort of criteria to compare different models to each other in order to pick the one that fits you best.
Although most kegerators are fairly similar in terms of the design and features, they do have their differences as well. Yes, every kegerator is essentially a refrigeration unit designed to store a keg of beer inside and dispense that beer up through the tower and the faucet on top.
So, here's what you need to look out for when choosing a home kegerator:
Of course, you want the kegerator to fit well in the space it is intended to go. Not only that but you also want to make sure nothing will obstruct your access to the kegerator and allow for easy installation and maintenance later on.
By capacity, we mean how many kegs can fit inside your kegerator and what the size of those kegs are. The usual "the bigger, the better" does not always apply here since you may need to find a perfect balance between the overall size of your kegerator and its capacity.
Number of beer towers/faucets
Having 2 or 3 beer towers on you kegerator unit comes in handy if you're planning to dispense multiple beer styles. Although this option typically increases the cost a bit, many beer enthusiasts still prefer to have it, just in case.
Basically, this is how fast your kegerator can cool a keg of beer and how long it can hold it at the ideal temperature. Most kegerators have temperature ranges between low 30s to mid 40s Farenheit.
What's included in the set
Some models are sold as complete kegerator sets containing all the elements you need to get them going while others require purchasing these additional elements separately. A complete kegerator set would include the following elements:
CO2 tank

regulator

decoupler

beer line

air line

column beer tower (or towers)


faucet (or faucets)


drip tray

Although these are the most important factors, there are other things to keep in mind when choosing a home kegerator, such as mobility (whether it can be easily wheeled around), controls (whether it has an LCD screen and a digital thermostat), and convertibility (whether you can use the kegerator as a regular fridge with shelves).
You may have noticed that we omitted the price as a factor. This was done intentionally and largely due to the fact that a kegerator price depends on so many factors, including the model, manufacturer, features, capacity, what's on sale, and so on. There are too many things to consider that can affect the price – it all depends on your specific needs.
Typically, the basic models would start from $500, a mid-range model would cost you around $1,000 while some high-end units can go up to $2,000. Our top pick for this review comes from the lower price range.
Now that we know all the criteria, let's take a look at our featured model today - the one that we consider to be the best kegerator for the money asked, if we're talking about home use.
Best Home Kegerator - Editor's Choice
Of all the kegerators in the BeverageCraft lineup, we name the Edgestar KC2000 model "The Best Home Kegerator 2021-2022." This unit is definitely worth checking out first if you are looking to buy a reliable kegerator for your home and don't want to break the bank.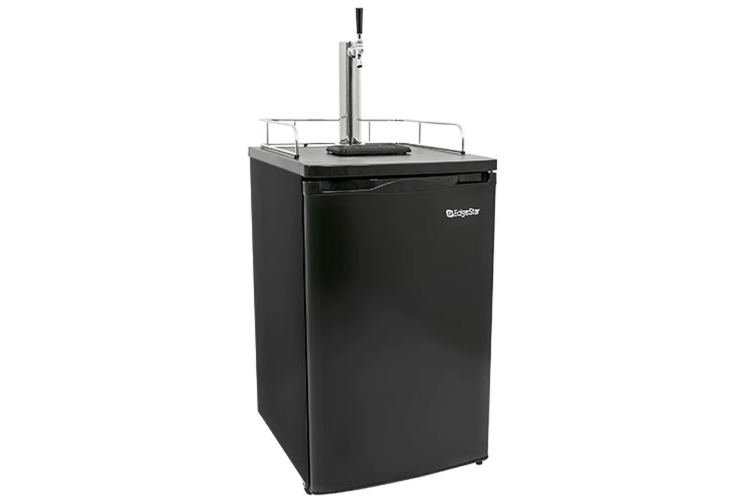 Here are some of the basic characteristics of the KC2000 model:
Dimensions
Height: 35 1/4"
Depth: 26"
Width: 20
Weight: 65 lbs
Keg storage
1/2 Barrel: 1 Keg
1/4 Barrel: 1 Keg
1/6 Barrel: 2 Kegs
Exterior
Cabinet: Powder-coated metal
Drip Tray: Plastic
Guard Rail: Yes
Casters: Yes
Mechanical
Noise: Not more than 45 dB
Evaporator Type: Dynamic cooling, ribbed pipe
Operating Amperage: 1/5 A
Thermostat Model: Manual
When ordering an Edgestar KC2000 unit, you also get a stainless steel column draft tower, a D-type system Sankey coupler, a 5-ft long NSF-approved beer line (3/16'' inner diameter), 5-lb aluminum CO2 tank (shipped empty in accordance with the safety regulations), a spanner faucet wrench, a chrome-plated brass faucet, a single-gauge regulator, a 5-ft long vinyl air line (5/16'' inner diameter), one drip tray, and one black tap handle.
Product Overview - Edgestar KC2000
This is an ideal starter model for those who are just entering the kegerator market since it includes all the main features you may need at a really competitive price.
The Edgestar KC200 unit is designed for freestanding indoor use only and includes a manual thermostat control to regulate the temperature. You can get this kegerator in a single-tap or dual-tap configuration. Due to its relatively modest capacity, it does not offer a triple-tap option, which may not work for every customer's needs.
This model features very high-quality components for its price range, which, in our opinion, makes it an ideal choice for a first-time buyer. The KC2000 model includes all the features and options our customers consistently request while keeping its price below the market average for the value provided.
Pros and Cons of the Edgestar KC2000 model
➔ Pros:
Perhaps, the best thing about this model is that it provides unprecedented value. For slightly over $500 USD, you get a solid kegerator unit that will suit the needs of almost every beer enthusiast.
We give it additional points for style, capacity, and temperature range, which goes all the way from low 30s to mid 40s F.
➔ Cons:
Hardly any. Minor downfalls include the lack of digital thermostat for more precise temperature regulation, and the lack of the triple-tap configuration option.
Bottom Line
If you want to dispense ice-cold beer in the comfort of your home but don't want to break the bank, the Edgestar KC2000 model is the kegerator to get. Designed to hold up to ½ barrel sized kegs, this unit comes with all the hardware you need to start chilling and dispensing your beer right out of the box.