How do I know what type of Keg Coupler I need?
Posted by Ron on 23rd Sep 2019
Tapping a keg properly simply isn't possible without using the right type of coupler. To become a tap-master, you should know about the six main keg couple types so you can handle different styles of beer like a pro. Here is a detailed look at all the main keg couplers and tips on how to use them with your draught beer setup.
Beer Keg Couplers and What Is the Difference Between Them?
Two common questions asked by those who are not familiar with keg couplers are:
Where do all these different types come from?
Why can't these guys just agree on the same, universal type of coupler for every keg out there?
The first one is really easy to answer. Most couplers were independently designed by beer producers around the world before globalization and transnational corporations were started.
Problems started to come up when beer from, let's say, Germany became easily available and commonly ordered in other parts of the world. Manufacturers wouldn't compromise, so consumers had to work with multiple keg coupler types if they wanted to carry different styles or brands of beer.
What we have now are six different keg coupler types which cover pretty much every type of beer out there:
Before exploring the differences between these coupler types, here are a few things they have in common:
gas and beer flow directions (pressurized CO2 or nitrogen comes in through the side and the beer goes out through the top)
a locking mechanism that covers the keg valve
a back lever that engages in the coupler with the keg valve
These keg coupling types are fairly similar in terms of how they work. The actual difference is in the way they are attached to the keg valve - more on that below.
D-Type Keg Coupler Characteristics and Fit
Also known as the American Sankey coupler, the D-type keg coupler is the most common on this side of the world. Used by the majority of North American beers, including Molson, Corona, Coors, Budweiser, Miller, PBR, Yuengling, and so many more.
In addition to the standard variety, the keg coupler type D is also available in a low-profile (short handle) version to accommodate kegs in smaller, tight-space refrigeration systems.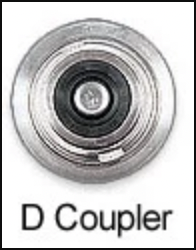 U-Type Keg Coupler Characteristics and Fit
Alternatively known as the Irish or Guinness keg coupler type, the U-type keg coupler is mostly used for beers originating from Ireland, such as Guinness, Harp Lager, Smithwick's, and Magners Cider.
It's not always easy to find a good U-type keg coupler for sale but we always have some in stock!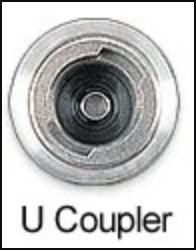 G-Type Keg Coupler Characteristics and Fit
Known for its unusual triangle shape (see the picture below), the G-type keg coupler is most notably used by some British, Dutch, and even a few American breweries, including Anchor.
The legend says they decided to switch to an unusual European-style keg coupler G-type to help distinguish their kegs so they could be returned without confusion.
Other popular brands that use the G-type keg coupler include Boddington's Pub Ale, Fuller's, Grolsch, Sir Perry William's, and Watney's.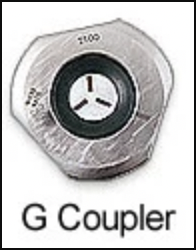 S-Type Keg Coupler Characteristics and Fit
Often referred to as the European Sankey coupler, the S-type keg coupler is used for popular European brews like Amstel, Pilsner Urquell, Newcastle, and more. Alternative names for this type include:
Stella Artois keg coupler type
Heineken keg coupler type
The major difference between this European Sankey and American Sankey is in the probe. In American couplers, it's short and broad while in the European ones it's skinny and long.
If you try to hook up the S-type coupler to an American beer keg, you will most likely get a spray of beer in your face.
Reverse that (D-type coupler connected to a European Sankey keg) then the beer won't pour at all.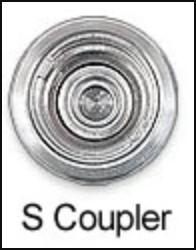 A-Type Keg Coupler Characteristics and Fit
Used on almost all German beers and about half of the Belgian beers, the A-type keg coupler is commonly associated with brands like Ayinger, Bitburger Pilsner, De Dolle, Franziskaner, Hoegaarden, Krombacher, Löwenbräu, Paulaner, Warsteiner, and some others.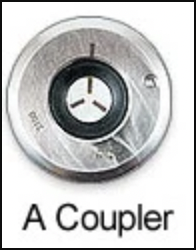 So, these were the five most common keg coupler types - D, U, G, S, and A. What about the sixth one? That's right, there is also the M-type coupler, which is somewhat less common, but still worth a mention. M-type keg couplers are used on a few German beers like Schneider Weisse.

Unsure of which keg coupler type you need for your keg?
No problem. Below we have compiled a list of popular beers and which coupler type they belong to.
Although we try to keep this list as up-to-date as possible, the beer industry is constantly evolving. If the beer you're looking for is not listed, please contact us and we will be able to look into it for you.
Beer Keg Coupler Types
D Type
| | |
| --- | --- |
| Abita Amber | Killarney |
| Abita Golden | Killian's Irish Red |
| Abita Light | Kirin Ichiban |
| Abita Purple Haze | Kokaneev |
| Abita Turbodog | Labatt Blue |
| ACME Brown Ale | Leinenkugel |
| ACME IPA | Little Kings |
| ACME Pale Ale | Lost Coast Alleycat Amber |
| Alaskan Amber | Lost Coast Apricot Wheat |
| Alaskan ESB | Lost Coast Downtown Brown |
| Alaskan Pale Ale | Lost Coast Great White |
| Alaskan Smoked Porter | Lost Coast Raspberry Brown |
| Alaskan Stout | Lowenbrau (US) |
| Alaskan Winter Ale | Mad River Jamaica Red Ale |
| Alexander Keith | Mad River Steelhead Pale |
| Anderson Valley Belks Bitter | Maudite |
| Anderson Valley Boont Amber | Miami Trail Brewing |
| Anderson Valley Hop Ottin IPA | Michael Shea's |
| Anderson Valley Poleeko Gold | Michelob |
| Bad Frog - BAD Light | Michelob Amber Bock |
| Bad Frog Golden- Amber Lager | Michelob Light |
| Bad Frog Micro-Malt | Michelob Speciality |
| Bay Hawk Chocolate Porter | Michelob Ultra |
| BayHawk Amber Ale | Mickey's |
| BayHawk California Pale Ale (CPA) | Middle Ages |
| BayHawk Hefeweizen | Miller |
| BayHawk Honey Blonde | Miller Genuine Draft |
| BayHawk OC Lager | Miller Lite |
| BBC Long Beach Crude | Milwaukee's Best |
| BBC Marathon | Modelo |
| BBC Strawberry Blonde | Molson Canadian |
| BBC Top Sail | Moosehead |
| Black Dog | Natural Ice |
| Blanche de Chambly | Natural Light |
| Blue Moon | New Amsterdam |
| Breckenridge | New Zeland Steinlager |
| Brooklyn Brown Ale | Nor'Wester |
| Brooklyn East India Pale Ale | North Coast Old Rasputin Stout |
| Brooklyn Lager | North Coast Pranqster Belgian |
| Brooklyn Pennant Ale 55 | North Coast Red Seal Ale |
| Brooklyn Pilsner | North Coast Scrimshaw |
| Brooklyn Post Road Pumpkin Ale | O'Doul's |
| Brooklyn Weisse | Old Milwaukee |
| Bruin Pale Ale | Old Vienna |
| Bud Dry | Pete's Seasonals |
| Bud Ice | Pete's Wicked Ale |
| Bud Ice Light | Porter & Summerfest |
| Bud Light | Portland Mactarnahan's Amber |
| Budweiser | Portland Oregon Honey |
| Budweiser Select | Pyramid Hefeweizen |
| Busch | Pyramid Seasonal |
| Carlsberg | Razors Edge |
| Carlton and United Breweries (CUB) | Red Ale |
| Castlemaine | Red Dog |
| Celis | Red Hook Blonde |
| Cider Jack | Red Hook ESB |
| Columbia Brewing | Red Hook IPA |
| Coors | Red Hook Seasonal |
| Coors Light | Red Wolf |
| Corona | Rogue Dead Guy Ale |
| Custom Brewcrafters | Rogue Hazelnut Brown |
| Deschutes Black Butte | Rogue Red |
| Devil Mountain | Rolling Rock |
| Dos Equis Amber | Rouge-Mogal |
| Dos Equis Lager | Sam Adams Boston Lager |
| El River Brewing | Sam Adams Seasonal |
| Ellicottville | Saranac |
| Fat Tire | Saxer Brewing |
| Firehouse | Schmitt's |
| Firestone Double Barrel Ale | Shiner Bock |
| Firestone Lager | Ship Inn |
| Firestone Pale Ale | Shipyard |
| Firestone Walker's Ale | Sierra Nevada Pale Ale |
| Flying Dog | Sierra Nevada Seasonal |
| Foster's | Sleemans |
| Full Sail Amber Ale | Southpaw |
| Full Sail Pale Ale | Spanish Peaks Black Dog |
| Genesee | Starr Hill Brewery |
| George Killian's Irish Red | Steinlager |
| Goose Island | Stroh's |
| Gordon Biersch Hefeweizen | Tecate |
| Gordon Biersch Marzen | Thomas Kemper |
| Grant's | Trois Pistoles |
| Green Mountain Cidery | Unibroue |
| Hamm's | Wasatch |
| Hard Core Cider | Weinhard's |
| Henry Weinhard's | Whitbread Ale |
| High Falls | Widmer Hefeweizen |
| Holy Cow Red | Widmer Seasonal |
| Hornsby's | Woodchuck Dark & Dry Cider |
| Hudson Valley | Wyder's Apple Cider |
| Humboldt Hemp Ale | Wyder's Peach Cider |
| Humboldt IPA | Wyder's Pear Cider |
| Humboldt Pale Ale | Wyder's Raspberry Cider |
| Humboldt Red Nectar Ale | Yuengling |
| Ice House | Zebra |
S Type
| | |
| --- | --- |
| Amstel | Maredsous Abbey Ale (Belgium) |
| Amstel Light | Marston's Pedigree |
| Beck's | McEwan's |
| Beck's Premier Light | Moretti Italian Pilsner |
| Belhaven 80 Shilling | Murphy's Irish Red |
| Belhaven Best | Murphy's Irish Stout |
| Belhaven Best Extra Cold | Newcastle |
| Belhaven St. Andrews Ale | Pilsner Urquell |
| Belle-Vue | Piraat Ale |
| Beamish | Scottish & Newcastle |
| Cantillon Rose (Belgium) | St. Pauli Girl |
| De Koninck Ale (Belgium) | Stella Artois |
| Delirium Tremens (Belgium) | Strongbow Cider |
| Dortmunder Union | Tetley's |
| Double Diamond | Tooheys |
| Erdinger Hefetrub Weisse | Tucher |
| Hahn | Van Steenberge |
| Heineken | Woodpecker Cider |
| John Courage | Young's |
| Lindeman's Framboise | Young's Chocolate Stout |
| Lindeman's Peche | Young's Oatmeal Stout |
| Lion Nathan | Young's Ram Rod Bitter |
| Lowenbrau (Import) | Young's Special London Ale |
G Type
| | |
| --- | --- |
| Abbot Ale | Fuller's ESB |
| Anchor Liberty Ale | Fuller's London Pride |
| Anchor Porter | Grolsch |
| Anchor Steam | Old Speckeled Hen |
| Bass Pale Ale | Rouge |
| Blackthorne Cider | Scottish Tennents |
| Boddington's Pub Ale | Sir Perry William's |
| Caffrey's | Watney's |
U Type
| | |
| --- | --- |
| Abby White | Leffe |
| Guinness Stout | Magners |
| Harp | Smithwicks Ale |
| Kilkenny | |
A Type
| | |
| --- | --- |
| Ayinger Altbairisch Dunkel | Isenbeck |
| Ayinger Bräu-Hell | Krombacher |
| Ayinger Bräu-Weisse | Kronenbourg 1664 |
| Ayinger Celebrator | Paulaner Hefeweizen |
| Ayinger Frühlingsbier (Springtime Beer) | Paulaner Lager |
| Ayinger Jahrhundert-Bier | Paulaner Pilsner |
| Ayinger Kirta-Halbe (Pint of Country Fair) | Paulaner Salvator |
| Ayinger Liebhard's Kellerbier | Spaten Lager |
| Ayinger Premium-Pils | Spaten Oktoberfest |
| Ayinger Ur-Weisse (Traditional Wheat) | Spaten Optimator |
| Ayinger Winter-Bock (Winter "Buck" Beer) | Spaten Pils |
| Bitburger Pilsner | Staropramen |
| Fischer | Victoria Bitter |
| Franziskaner Hefe-Weisse | Warsteiner Dunkel |
| Hacker-Pschorr Weisse | Warsteiner Pils |
| Hoegaarden White | |

You May Be Also Interested In