How to Brew a Craft American Pale Ale at Home: Step by Step Instructions
Posted by Ron on 12th Nov 2021
You don't know how to brew American pale ale yet? No worries, you can learn how in less than five minutes - right here in this article. The only key ingredient you need is an American Pale Ale Brooklyn Brew Shop beer-making kit.
Follow these simple instructions below, and you'll be enjoying a fresh batch of ice-cold beer in no time. Let's see how it's done!
Craft a Brew American Pale Ale Instructions
This beer flavor is an all-time classic! Compared to the Indian Pale Ale, it is less hoppy, with just the right amount of toasted maltiness. Made with 100% American malted barley and American hops, this is an all-around great beer for any occasion!
What American Pale Ale Beer Making Kit Includes
An American Pale Ale Brooklyn Brew Shop beer-making kit contains all the American Pale Ale ingredients you need to brew one gallon of craft beer, including:
All-grain ingredient mix
Nugget hops
Yeast
1-gallon (3.8 L) glass fermentation jug
Thermometer
Racking cane + tip
Vinyl tubing + tubing clamp
Screw-cap stopper
Airlock
No-rinse sanitizer

Below are Craft a Brew American Pale Ale instructions to make your best American Pale Ale.
What Temperature Should You Brew Pale Ale?
To start the Craft a Brew American Pale Ale, you first need to heat around two and a half liters of water to 710C (1600F) in a stockpot. Once the water is up to temperature, you need to empty the contents of the bag with the beer-making mix into the hot water.
As you're stirring the brew, keep the temperature between 630C and 680C (1440F and 1520F) using a thermometer on the side. Set a timer for one hour and let it brew at the same temperature.
After that, you dump the mix into another pot through a strainer to separate the grains from the brew. Repeat this a few times (may need to add some hot water) until you get five quarts (4.75 L) of wort – that's your future beer.
Bring the brew back to boil and let it cook for another 60 minutes. Add hops as per instructions and keep boiling for another 45 to 60 minutes - just like you would do when brewing classic styles of American Pale Ale.
How Long Should American Pale Ale Ferment?
Cool the mix down, bringing it to around 210C. Then, pour it into the fermenter jar via a funnel and through a small strainer. Pitch the yeast into the jar (use the whole packet) and shake the jar to spread the yeast evenly.
Next, attach the screw-top stopper to the jar and slide the vinyl tube into the stopper while putting the other end into a small cup filled with sanitizer solution. Let it stay that way for two or three days.
Once the active part of the fermentation is over, re-assemble the airlock, fill it up to the line with a sanitizer, and insert it in the stopper. Keep it that way in a dark place at room temperature for two weeks.
American Pale Ale Bottling Process
The bottling process starts with sanitizing all the bottles and tubing. Using the racking cane, clamp, and tube, siphon the beer from the jar into a pot and then into bottles. Then, cap the bottles using a capper.
When Can I Drink My Beer After Brewing?
After you've bottled the brew, store the bottles in a dark place for another two weeks. After that, you can enjoy your fresh, American Pale Ale homebrew! Make sure to cool the bottles before drinking.
How to Choose American Pale Ale Kits and Mixes?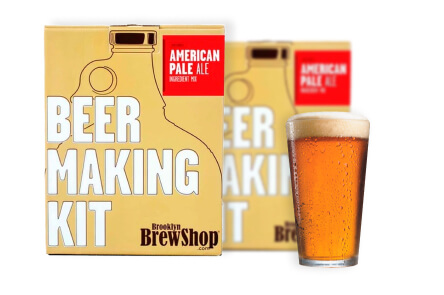 If you're looking for a great American Pale Ale beer-making kit, be sure to consider our selection first. Here at Beverage Craft, we specialize in draught beer equipment and accessories for homebrewing and offer a wide variety of Brooklyn Brew Shop kits and mixes at very competitive prices.
Any of these kits will make for an awesome gift for your friends and loved ones, especially if they are fans of the craft beer culture. To Craft a Brew with an American Pale Ale starter kit, you don't have to be a pro or own any special equipment - anyone can do it in their own kitchen!
It's easy, it's tasty, and it's affordable compared to what you would have to pay when buying standard bottled beer. Get your American Pale Ale beer-making kit from Beverage Craft today!
You May Be Also Interested In