The Best Gifts for the Homebrewers for Any Budget
Posted by Ron on 1st Aug 2021
Choosing gifts for homebrewers can be challenging even for homebrewers themselves! There are so many items to choose from and sometimes you don't even know what everything is and what's really worth buying. Our shopping guide is here and guaranteed to help.
Top Gifts for Homebrewers in 2021-2022
Since there are so many good gifts for homebrewers, we split our suggestions into a bunch of categories to help you navigate your options.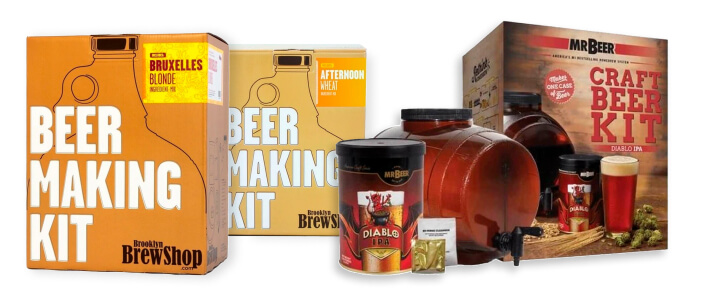 Inexpensive Gifts for Homebrewers
A nice and useful gift does not always have to be super expensive - it's the attention that counts. Any of these items on the list below will make a great addition to any homebrewer's arsenal. In fact, you can just get them all together in a combo-present - how about that?
Beer Making Kit
Beer-making kits are a fun and easy way to brew some truly original, "betcha never tried this one before" beer flavors right in your kitchen.
And they are indeed kits - since they contain everything you need to brew a batch of beer, including brewing extract, yeast, fermenter keg, spigot, and even plastic bottles.
Every kit comes with detailed instructions so even if you're giving this kit to someone who's not a seasoned homebrewer yet, they will figure it out in no time. Choose from a variety of brands and flavors but be sure to check Brooklyn Brew Shop beer-making kits first - our top sellers currently!
Beer-making Refills
The great thing about beer-making kits is that they are reusable. Once you've finished brewing, all you have to do is clean the parts with a sanitizer, open up another refill pack, and start brewing again!
Beer-making refills feature everything you need to brew another batch of craft beer at home: brewing extract, hops, and yeast. Choose from dozens of original flavors guaranteed to satisfy even the most demanding taste!
Unique Gifts for Homebrewers
If you want to really surprise your fellow homebrewer or draught beer enthusiast, these next gifts are sure to do the trick... you might even want to get one for yourself.
Tap handle
The possibilities are truly endless here as you can choose from thousands of different styles, brand names and shapes. Another great thing about tap handles is that they are really not that expensive with most of them priced well within the $20-25 range. If you want to make it really special, you can get a fully customized tap handle and place your own logo/image on it.
Pub sign
Speaking of unique gift ideas for homebrewers, here's one that any beer lover and mancave owner will appreciate - an indoor pub sign. There are plenty of varieties to choose from - you can go with a beer brand name or go wild with an old-fashioned, illuminated street-style pub sign.
Ceramic beer tower
And of course, there are always beer towers - but not just any kind. If you want something really special for your favourite homebrewer you need a ceramic beer tower.
Eye-catching, vintage-styled, available in myriads of different colors and finishes, these beer towers are not only visually pleasing, but also highly practical. They can be used for most beer dispensing setups, just be sure to choose the right number of faucets per tower and the right type of cooling ( air or glycol).
Best Gifts for Homebrewers 2021-2022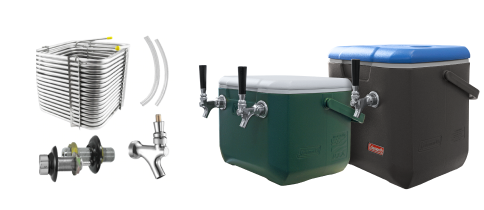 2021 wasn't ideal for social drinking in bars or pubs. This might be one of the reasons behind the increasing popularity of jockey boxes and DIY kits. Gift one to your homebrewer friend and they are guaranteed to appreciate it.
Jockey boxes
What makes jockey boxes so useful is that they are highly portable and easy to use. Designed for dispensing draught beer in places where no electricity is available, jockey boxes are ideal for backyards and camping.
Not sure which jockey box to get? Go with a basic 1-faucet 70' coil model - super compact and affordable option.
DIY kits
Another great present for anyone who's into homebrewing and craft beer culture. If a pre-assembled jockey box won't do, getting a DIY jockey box kit is the best option guaranteed to impress fellow homebrewers. Plus, it's a great money-saver as well.
Best High Budget Gifts for Serious Homebrewers by Beverage Craft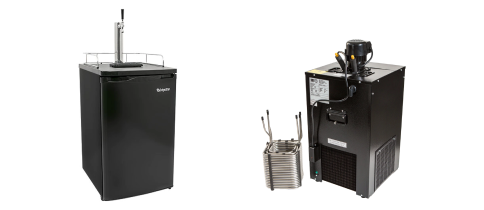 Is your friend an experienced homebrewer who's "been there, done that" and already has a solid set of brewing equipment? Do you need something extra to really spoil that person? Here are our ideas for the best gifts for serious homebrewers.
Kegerator
Constantly ranked highly on any list of best gifts for homebrewers, kegerators are essentially refrigerators designed to store and dispense keg beer indoors or outdoors. If you are not sure which model to get, we recommend going with an Edgestar 200 home kegerator - it has everything you need to serve beer at home with style and ease.
Fermenter glycol chiller
One of the really cool gifts for homebrewers and an essential component of a serious homebrewing setup, the glycol chiller is designed for cold-crashing or controlling the fermentation temperature of the beer.
Although there are plenty of models to choose from, you can save yourself time and hassle by going with the UBC T75FBC homebrew glycol chiller - a perfect choice for brewers looking to control the fermentation temperature reliably and affordably.
If you're looking for more ideas of great gifts for homebrewers, consider getting personalized beer equipment with your friend's name on it, logo, or some funny phrase - this way they'll know it is really meant for them.