7 Reasons to Apply for Lease to Own Sanke Kegs Program
Posted by Ron on 6th Jan 2023
To lease or not to lease? That's the question! Deciding on lease to own Sanke kegs may prove quite difficult: on the one hand, keg leasing allows you to save a considerable amount of money on purchasing them and getting the exact kegs you wanted. On the other hand, you have rather strict rules you have to follow, and the kegs must be returned in proper condition, which is not always easy to achieve.
Here in this article, we'll take a closer look at the pros and cons of keg leasing so that you can decide if it works for your particular situation. Let's get right into it!
What Is Keg Leasing?
If you ever rented a car or an apartment, you already have a general idea of keg leasing. Much like with any kind of equipment leasing, keg leasing means you sign an agreement with a keg provider company.
Under this agreement, the company provides you with the kegs of your choice for a certain period (24, 36, 48) while you agree to pay a specified sum of money every month for using these kegs. After the leasing period is over, the kegs have to be returned to the provider.
Although the general idea behind keg leasing is simple, there are plenty of different variations. One of the most popular ones is keg lease-to-own: under this scheme, once the lease period is over and the balance is paid in full, lease-to-own kegs remain in your possession.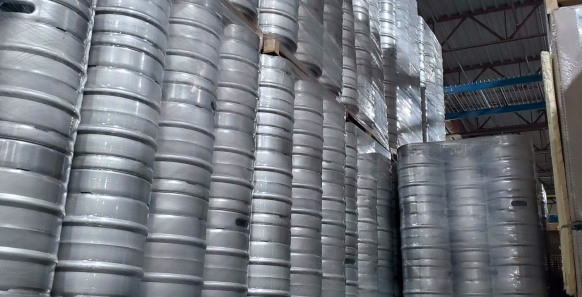 Keg Leasing Pros and Cons
As we've mentioned before, keg leasing can be tricky. Here are some pros and cons you should consider.
Advantages of Keg Leasing
No need to drain your bank account and pay the whole sum upfront. You pay little by little as you go, which is hugely convenient for small and medium businesses.
Less hassle. Kegs can be delivered directly to your door.
You can explore different keg styles and options to ultimately decide on which ones you'd like to own.
Let's not forget about the environmental impact. Leasing (and returning) kegs means you can contribute to a more sustainable environment!
Disadvantages of Keg Leasing
The minimum lease period is typically 12 months, which means you can't break the contract without financial consequences, even if you're not satisfied with the keg provider
Additional costs may be applied, such as keg insurance
You still have to pay whether you use the kegs or not.
Making the Decision. Should You Buy or Lease a Keg?
As we've mentioned before, there's no such thing as one being better than the other. Both options are perfectly fine in their own respect – it's just a matter of what's best in your particular case.
Here are some things to keep in mind when considering keg leasing:
Costs. If you're not planning to use kegs forever, leasing them might be a reasonable option.
Choice. Compared to stores, keg leasing companies typically provide a wider choice of kegs, which means you have a better chance of finding the right kegs for your needs.
Convenience. You can save yourself a bit of hassle by leasing kegs since they will be delivered right to your door.
Handling. Leased kegs have to be handled with extra care – if you return them in poor condition, certain fines can be applied (depending on the terms of the contract).
Why it is Better to Lease Kegs Directly from a Beer Keg Supplier
Once you've finally made the decision to lease kegs, another question comes up – where are beer keg suppliers near me? There are different wholesale keg beer suppliers on the market, each with their own terms – how do you choose the one that's best for you?
Most would agree that leasing a stainless steel keg directly from beer keg wholesale suppliers is the optimal solution, since you get a wide choice of kegs and the much-needed level of expertise.
Plus, some beer keg suppliers offer additional services that you might find really useful (e.g., keg branding and customization).
Benefits You Get When Applying for Lease to Own Sanke Kegs Program with Beverage Craft
Here's what you get when you lease your keg from Beverage Craft:
Top-quality, European-made Schaefer kegs
Long or short-term lease-to-own keg options, depending on your needs
Fast and easy keg leasing process
1. Fill out an online application
2. Add kegs to your order
3. Get approval and receive your kegs
Transparent, flat-rate fees
Shipping within 3 to 14 days (faster than most US beer keg suppliers)
Complimentary 1-side embossing
Special discounts on beer equipment and parts
You May Be Also Interested In