UBC vs SS Brewtech vs Grainfather Glycol Chiller for Conical Fermenters
Posted by Ron on 1st Dec 2020
Choosing the right glycol chiller for your homebrewing setup is not an easy thing to do. In this article, we take a look at the three heavyweights of their class and try to define the winner.
What Is a Fermenter Glycol Chiller and How Is It Used?
Fermenter glycol chillers are essentially refrigerators used to cool down liquids. These chillers play a vital role in the beer brewing process, making them popular amongst homebrewers.
What makes fermenter chillers so indispensable? When brewing, it is imperative to keep a stable temperature during fermentation because it directly affects the beer's quality.
Since the ambient temperature of a typical homebrewer's basement isn't stable, a device is needed to keep the fermentation temperature under control - fermenter chillers do just that.
Construction-wise, a typical fermenter chiller consists of the following parts:
compressor
evaporator
condenser
metering device
Being "glycol" chillers, these devices use a food-grade antifreeze called " propylene glycol" as their cooling agent.
The way a fermenter glycol chiller works is rather simple. Once all the connections are made and the fermenting procedure is initiated, you dial in a precise temperature designated for the type of beer you're brewing. If (and when) the temperature fluctuates, your conical fermenter glycol chiller will begin adjusting it accordingly.
A solid glycol chiller should be able to maintain beer temperatures and enable crash cooling for 1 to up to 6 vessels even in high ambient temperatures.
Popular Glycol Chillers for Conical Fermenters on the Market
Don't let the word "conical" confuse you - it's just there to indicate the shape of these fermenters. Being a popular product among homebrewers, glycol chillers for conical fermenters are available from almost all major beer equipment manufacturers, including UBC, SS Brewtech,Grainfather, Stasis, Penguin, Perlick, and others.
This review focuses on three heavyweights of their class:
UBC 1 / 2 hp glycol chiller
Grainfather glycol chiller
SS Brewtech 1/5 hp glycol chiller
All three are high-end systems capable of delivering a great homebrewing experience. But the question still stands - which one is the best glycol chiller for your homebrewing needs?
Comparison of the Best Conical Fermenter Glycol Chillers for Homebrewing: UBC, SS Brewtech and Grainfather
Let's start off with a comparison table where we stack up all the important features of each of these glycol chillers.
| | | | |
| --- | --- | --- | --- |
| | UBC T120FBC | SS Brewtech ⅕ HP | Grainfather |
| Compressor | ⅜ HP compressor | 120 VAC 1/5 HP Compressor | - |
| BTU/Power | 5,500 BTUs/Hr - 750 W | 1,450 BTUs/Hr - 425 W | 300 W |
| Capacity | 23 liters (6 gallons) | 18 liters (4.75 gallons) | 23 liters (6 gallons) |
| Thermostat type | Digital | Digital | Digital |
| Dimensions | 431W x 482D x 762H (mm) | 355W x 280D x 699H (mm) | 390W x 450D x 656H (mm) |
| Number of supported vessels | Up to 4 | Up to 3 | Up to 4 |
| Regular price (USD) | $792 | $900 | $998 |
On paper, these look quite similar, but the real difference is on the inside.Let's take a closer look at each one.
The SS Brewtech ⅕ HP has the smallest footprint of the bunch but packs enough power capable of delivering 1,450 BTUs.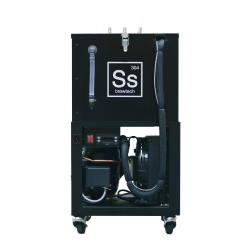 Pros:
the compressor is relatively quiet for this amount of power
the construction is rock-solid and the interface with a digital thermostat is rather intuitive
easy to monitor glycol level through a sight glass
Cons:
you can only connect a maximum of only three fermenters
no pumps or fermenter temperature controller
limited capacity (holds up to 18 liters/4.75 gallons)
The Grainfather glycol chiller is on the pricier side of the three boasting a modern design and a bright LED display for quick controls.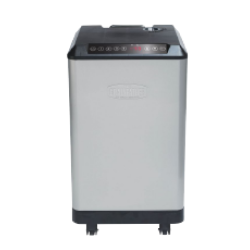 Pros:
connects to up to 4 conical fermenters with a separate temp schedule for each one
precise temperature control
comes with a conical condensation jacket
Cons:
takes a long time to bring the temperature down even to mid-40s
difficult to set up
priced too high for low output of 300 W
The UBC T120FBC is the most balanced of the bunch, capable of connecting up to four fermenters and packing enough power to crash cool a considerable amount of liquid.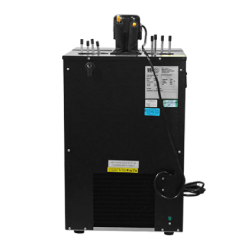 Pros:
high quality: features name-brand compressors, condensers, evaporators, and pumps
well-insulated bath for maximum efficiency
heat exchanger coils are AISI 304 stainless-steel
Cons:
bigger size
takes some time to set up and make all the necessary connections

CONCLUSION
If you are going for the maximum bang for the buck with zero compromises to the quality of your homebrewed beer, you should go with the UBC T120FBC. It's a mean cooling machine capable of crash cooling and flash-chilling up to four products. Overall, it's a solid choice for medium-volume homebrewers and beer makers.