How to Brew Beer Using Brooklyn Brew Shop Beer Making Kit?
Posted by Ron on 20th Dec 2021
If you ever wanted to brew craft beer at home, these Brooklyn Brew Shop instructions are exactly what you need. With a little time and patience, you'll be enjoying freshly brewed craft beer in the comfort of your home - it's that easy.
All it takes is a Brooklyn Brew Shop beer-making kit and some common household items. Let's see how it's done.
How to Choose Brooklyn Brew Shop Kits and Mixes?
When you see the variety of Brooklyn Brew Shop kits available on the Beverage Craft website, it can be hard to choose just one. But, set aside the different styles, and your ultimate choice is between these two options:
extract kit (suitable for complete beginners since all the mashing is already done for you)
all-grain kit (allows you to fully explore the beauty of homebrewing and enjoy truly craft beer)
We are going to go with the second option since it might not always be easy to do right, especially for those with little to no experience in homebrewing.
The instructions we provide below are based on the Brooklyn Brew Shop Afternoon Wheat but can generally applied to any of the following:

Brewing Beer at Home Using Brooklyn Brew Shop Kit: Preparation Process
A standard Brooklyn Brew Shop kit includes the following elements:
One-gallon (3.8 L) glass fermenter
Beer-making mix
Hops (up to 3 different packets)
Beer-making yeast
Analog thermometer
Vinyl tubing and tubing clamp
Racking cane & tip
Airlock
Screw-cap stopper
As you can see, instructions are not included in the set. You can find them online, along with Brooklyn Brew Shop sanitizer instructions, at the Brooklyn Brew Shop website or right here, in this article. Let's get started.
To round up our beer making kit, you will also need a few common household items found in any kitchen:
10 liters of bottled water
2 pots (one for 8 liters and another one for 5 liters)
Jug
Funnel
Ice
As for the Brooklyn Brew Shop expiration date, the standard shelf life for most of their products is one year.
Brooklyn Brew Shop Beer Making Kit: Step-By-Step Instructions
If you want your beer to be brewed with the Brooklyn Brew Shop beer-making kit instructions, you will complete a few stages. Let's cover these stages, as per Brooklyn Brew Shop kit instructions.
Mashing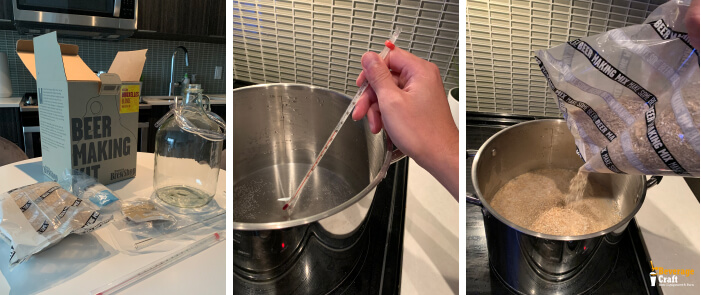 Take the grains and mix them with 2.4 liters/2.5 quarts of water heated to 71°C/160°F. After that, cook the grain for 60 minutes. Keep the mash within the range of 63°C and 68°C/ (144-152°F) stirring every 10 minutes or so.
Sparge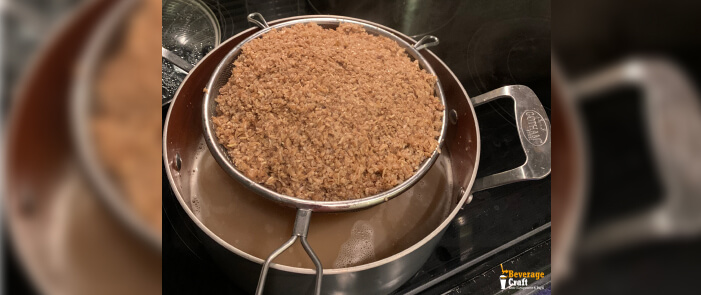 Using the second pot with 4.25 liters of hot water (77°C/170°F), rinse the grain mix through a net. You should end up with 4.75 liters of wort in the pot.
Boiling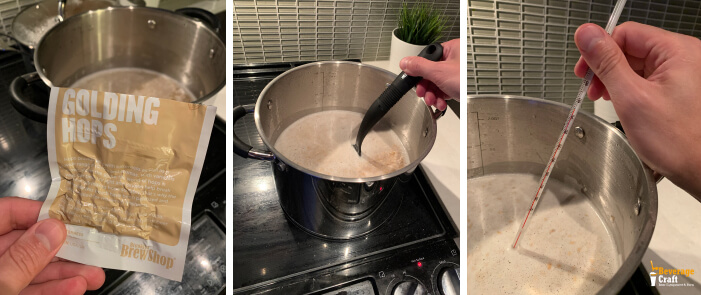 Bring the temperature up and start boiling slowly for 60 minutes while gradually adding hops as you go. Keep stirring the mix.
Fermentation
After the mix is chilled to 21°C/70°F, pour it into the fermenter jar through a strainer net, add the Brooklyn Brew Shop yeast, shake the jar, attach the vinyl tube, and put in a dark place. After 2-3 days, replace the vinyl tube with an airlock and let it stay for 2 weeks to complete the Brooklyn Brew Shop fermentation.
Brooklyn Brew Shop Bottling Instructions
Once the fermentation process is complete and you've got the fermenter out of the fridge after cold crashing, it's time to bottle your brew. According to the Brooklyn Brew Shop bottling instructions, there are three parts to this process:
Creating priming sugar and adding it to the pot to reactivate the yeast (in our case, it is done with honey mixed with water)
Siphoning the brew from the fermenter to the bottling bucket/pot with the honey mix inside it. Don't forget to sanitize the racking cane and tubing properly before this procedure
Siphoning the brew from the bottling bucket/pot to the actual bottles (don't forget to sanitize the cane and tubing again before this)
During the Brooklyn Brew Shop siphoning, make sure that the pipe in the bottle is submerged so the beer fills up and it doesn't get too oxygenated. Once you've filled up the bottles, sanitize the lids before putting in the stopper.
That's how to bottle beer from Brooklyn Brew Shop! After that, all you have to do is wait. Put the bottles away into a dark place at 19°C for two weeks to carbonate.
If you are looking for more Brooklyn Brew Shop kits and mixes (like the original Chestnut Brown Ale Brooklyn Brew Shop), be sure to browse our selection on the Beverage Craft website.
You May Be Also Interested In