5 Best Undercounter Bar Refrigerators 2023
Posted by Ron on 19th Apr 2023
It's not easy to pick the best undercounter beverage fridge, considering there are dozens of different models out there, ranging from basic to premium and everything in between. Instead, we came up with the 5 best undercounter bar fridges.
This is by no means a definitive list – more like an attempt to single out the models that have something really special and unique about them. So, without further ado, let's kick off our top 5 best undercounter refrigerators list!
Best Home Bar Undercounter Refrigerators
Starting off with a bunch of Undercounter fridge models that were designed specifically for home use. They are usually smaller and less powerful than commercial ones, but that doesn't mean they can't cool your beverage well.
5. Small glass door refrigerator SC-118F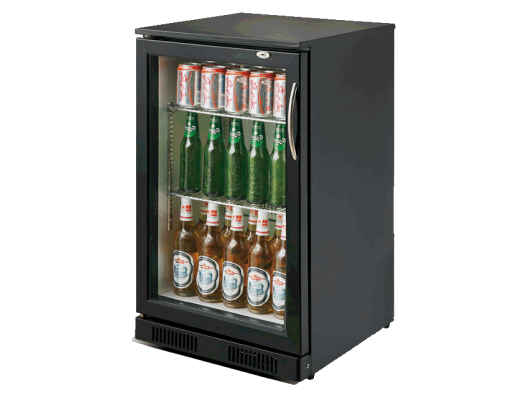 The tiniest, "compactest" model ever. Still, it has enough space to fit in a dozen or so bottles and cans (net volume = 118 L). It's also lightweight – just 35 kg, which means you can easily move it around whenever you want.
And the icing on the cake is the price, which is just over $360 USD.
4. Back bar CoolBar BB-100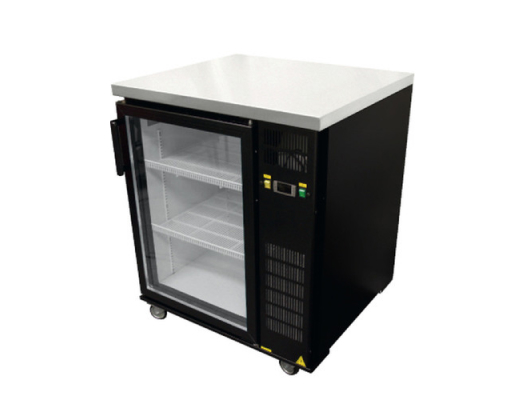 This undercounter home bar refrigerator is a super-nice and super-compact model that has just about anything you'd want from a cooler like that:
Compact size (39/28/33 inches)
Double-pane insulated glass door
315 cans capacity
Interior lighting
This is arguably the best Undercounter bar refrigerator for home use.
Best Commercial Under Counter Bar Fridges
When it comes to the best Undercounter bar refrigerator, we have three nominees.
3. 70'' Large back bar ASBER with 2 doors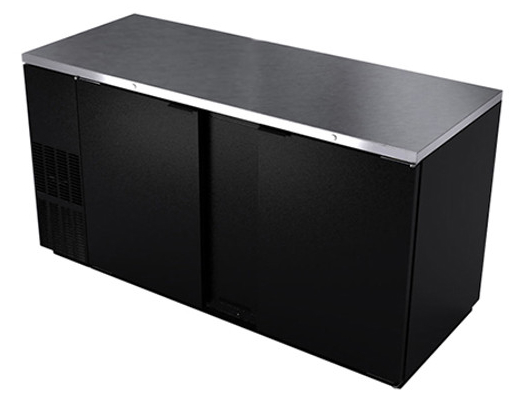 This stylish fella will make any bar, restaurant, party, or event complete! Not your run-of-the-mill cold storage unit – it's a commercial-grade, top-quality undercounter back bar refrigerator. Features either three ½ barrels or 672 12-oz. cans of beverage.
2. 90'' Back bar fridge CBB-90 with 3 doors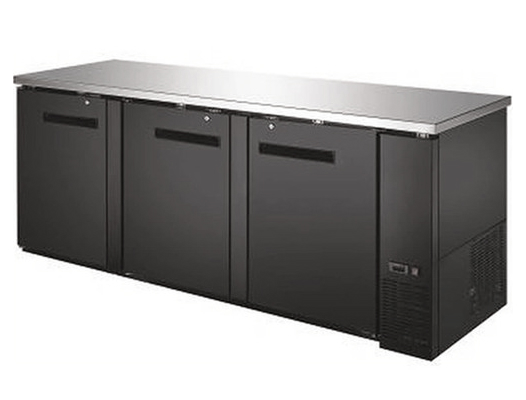 Now this is a real beer-cooling monster! With its black front and a glossy stainless steel top, the 3-door CBB-90 Under counter bar fridge model will blend nicely with any interior. It is suitable for beer, wine, cider, or soft drinks. Capacity: 916 litres.
1. 96" Large Back Bar ASBER wth 3 Doors
And the winner is… versatility! This full-size commercial undercounter bar fridge is both a stylish and ergonomic solution for any bar or restaurant. This 3-door model boasts the largest space to chill the kegs. Capacity: up to ten 30-litre kegs.
Things to Consider Before Buying Undercounter Bar Refrigerator
Shopping for an undercounter bar refrigerator is not all that taxing. You just have to know your dimensions and the desired capacity – the rest is additional style points you may get for a flashy-looking model, but that's about it. Now, let's talk about dimensions.
Under-Counter Beverage Fridges Size and Dimensions
What is the standard width of an undercounter fridge? Under counter fridges typically start with a 58'' wide model and then gradually increase in width:
58 inches wide model
68 inches wide model
78 inches wide model (this is where you get 3 doors)
90 inches wide model
94 inches wide model
The depth remains more or less consistent with all these models – it's usually around 27 inches. The same could be said about height – it's typically 37 inches. The length, of course, depends on the number of doors.
Undercounter Bar Refrigerator Temperature Range
The temperature range for undercounter bar fridges is usually set between 330 to 410F, which is the recommended range for cold beverages, such as beer, cider, or soft drinks.
Bar Undercounter Fridge Installation
The installation process for an undercounter fridge is no different from that of a kegerator. You've got your standard elements like a CO2 regulator, keg coupler, keg tap and tap handle, CO2 tank, keg tower, and connecting parts.
The main difficulty is drilling a carefully positioned hole in the counter to ensure it fits the beer tower. Everything else has more to do with assembling the parts and connecting them.
Where to Buy Under-Counter Refrigerators in the US and Canada?
Beverage Craft offers a wide choice of top-rated under-counter refrigerators, including all of the models featured on our best under-cabinet refrigerator list. We've been a proud supplier of homebrewing and draft beer equipment for nearly a decade, serving tens of thousands of happy customers from all over North America.
On our website, you are guaranteed to find the best undercounter beverage cooler for your home bar, pub, or restaurant – always at the right price.