Wind-resistant Patio Umbrellas Buying Guide
Posted by Ron on 29th Mar 2021
Choosing reliable yet flashy wind resistant patio umbrellas for your downtown bistro, cafe, bar, restaurant, or backyard patio can be challenging since there are so many on the market.
So, how will you choose what to buy? We'll help you answer that in this article. We will also give you a bunch of handy tips on how to keep your patio umbrella from falling over. Let's begin!
Buying Guide for Windproof Patio Umbrellas
The best windproof patio umbrellas will not only keep you cool and protected but also make your outdoor area more beautiful vibrant for both yourself and your customers. In addition to being sturdy enough to withstand the strongest of the winds and not fall over, an ideal patio umbrella should also match your style and outdoor decor.
Here are some of the things to look out for when choosing wind resistant patio umbrellas:
There are two main shapes you can choose from - square and round, which is really a matter of personal preference since they are both patio umbrellas that are wind resistant. Sizes typically range from 6 ft to 13 ft.
Obviously, the bigger the umbrella, the heavier it is. However, you should also consider what material the ribs and pole are made of - it could be aluminum or steel. Typically, a medium-sized patio umbrella would weigh around 10 kg (with a canopy).
Make sure it is UV-light and rain-resistant - you don't want your patio umbrella to fade under the sun quickly and last you less than a season.
The easier, the better - go with the classic cord and pulley blocks.
For commercial patio umbrellas, a branding option certainly wouldn't hurt - ask your manufacturer if they can produce custom-branded umbrellas for you.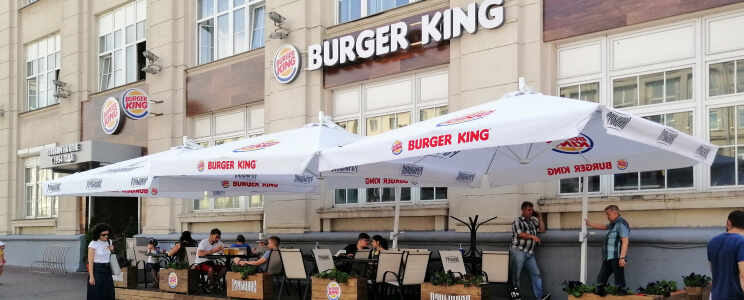 How to Keep Patio Umbrellas From Falling Over
Many of us aren't big fans of chasing runaway patio umbrellas. So, you need to know how to keep a patio umbrella from falling over. One thing that could really help is getting patio umbrellas that withstand wind - a special thanks goes out to Captain Obvious for this wonderful advice.
Seriously speaking, you have two possible options:
Tweak the base
If your patio umbrella comes with a hollow plastic base (most of them do), you can use different materials to fill it with - water (the lightest), sand (slightly heavier), or concrete (hard and heavy). Additionally, you can throw some sandbags on top of the base if the wind is really strong.
Tweak the canopy


Most importantly, be sure your patio umbrella canopy is not tilted during strong winds. Lowering the canopy can also significantly decrease the chances of your patio umbrella falling over during high winds.
Patio Umbrellas for High Wind Areas
Any kind of wind can be a big problem for patio umbrellas simply because it can make them act like a sail in the wind. Most of the time, this will result in the patio umbrella flipping over and getting dragged away. If you own a cafe or restaurant with a patio, none of these outcomes are good for you.
Of course, this problem can be solved by putting your patio umbrellas away every time the wind blows. However, there are special high wind patio umbrellas that are designed to withstand situations like this. Using such patio umbrellas in high wind areas is strongly recommended and can actually save you quite some money and hassle.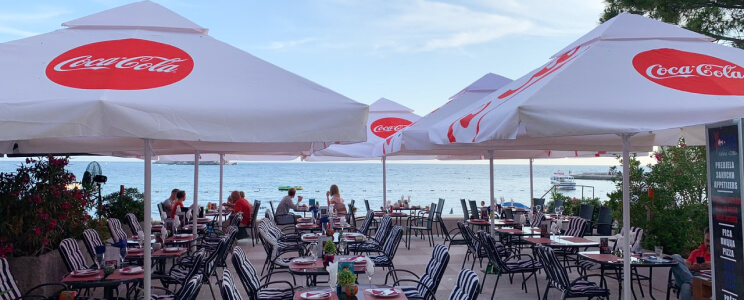 Best Patio Umbrellas for Wind and How We Make It
If you have read any wind resistant patio umbrellas reviews online, you may have noticed that the biggest factors in the overall product safety and reliability are the materials the manufacturer uses and the quality of the build.
Any manufacturer that produces wind-resistant patio umbrellas for sale has to walk a fine line between the usability and durability of the final product. Obviously, heavier patio umbrellas are less prone to falling over, but most people don't like to lift heavy furniture around their patios - especially umbrellas.
When we produce our patio umbrellas, we use the most durable materials we can find for both the canopies and the poles/ribs. All of our canopies are UV-resistant and rain-resistant to ensure the longest service life possible while keeping the product in the best condition possible. Our poles are made of corrosion-resistant alloys while ribs are strictly aluminum.
This way, we can be sure we manufacture the best wind-resistant patio umbrellas while our customers are getting the best quality at the most affordable prices. Oh, and that's not to mention the two-year warranty we offer for all of our patio umbrellas.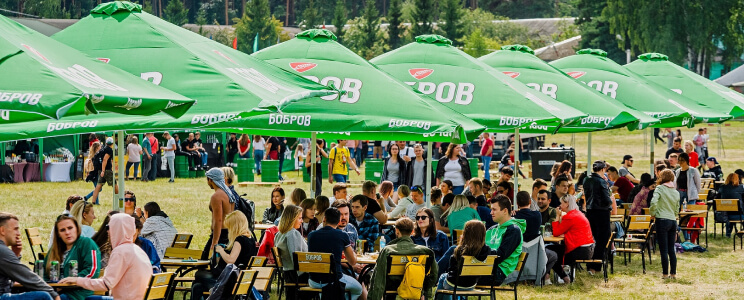 How We Make Commercial Wind Resistant Patio Umbrellas

Having been on the market for over a decade, we know how to manufacture quality commercial patio furniture wind-resistant umbrellas. Since most of our clients are cafe, bar, or restaurant owners, they often ask for some branding options, which we gladly offer.
You can also use our custom branding options to distinguish your cafe or bar patio and make it instantly recognizable, even from afar.
To get commercial patio umbrellas wind-resistant bearing your logo, please contact us for a quote with your printed logo (just fill in this product branding request form). There might be a minimum order requirement for certain types of patio umbrellas, which is usually 3 units. We will also kindly ask you to allow a production time of 4 weeks for your patio umbrellas to be manufactured to meet your exact specifications.
You May Be Also Interested In